The History of D.P. Wilson
Chief of Police Approximately 1924-1928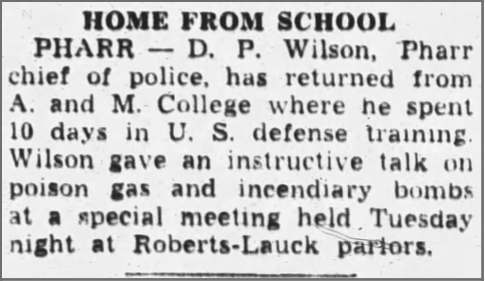 Content about this documention in the 1942's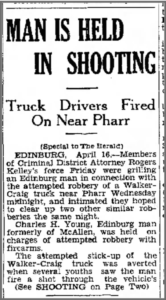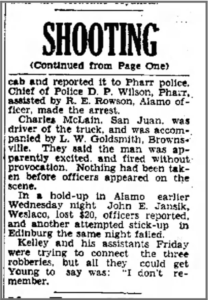 EDINBURG, April 16 – Members of Criminal District Attorney Rogers Kelley's force Friday were grilling an Edinburg man in connection with the attempted robbery of a Walker-Craig truck near PHARR Wednesday midnight, and intimated they hoped to clear up two other similar robberies the same night.
Charles H. Young, Edinburg man formerly of McAllen, was held on charges of attempted robbery with firearms.
The attempted Stick-up of the Walker-Craig truck was averted when several youths saw the man fire a shot through the vehicle's cab and reported it to Pharr police, Chief of Police D.P. Wilson, Pharr, Assisted by R.E Rowson, Alamo officer, made the arrest.
Charles McLain, San Juan was driver of the truck, and was accompanied by L.W Goldsmith, Brownsville. They said the man was apparently excited, and fired without provocation. Nothing had been taken before officers appeared on the scene.
In a hold-up in Alamo earlier Wednesday night John E. Jansik, Weslaco, lost $20, Officers reported, and another attempted stick-up in Edinburg the same night failed. Kelley had his assistants Friday were trying to connect the three robberies, but all they could get Young to say was: "I don't remember".